The Anklang Project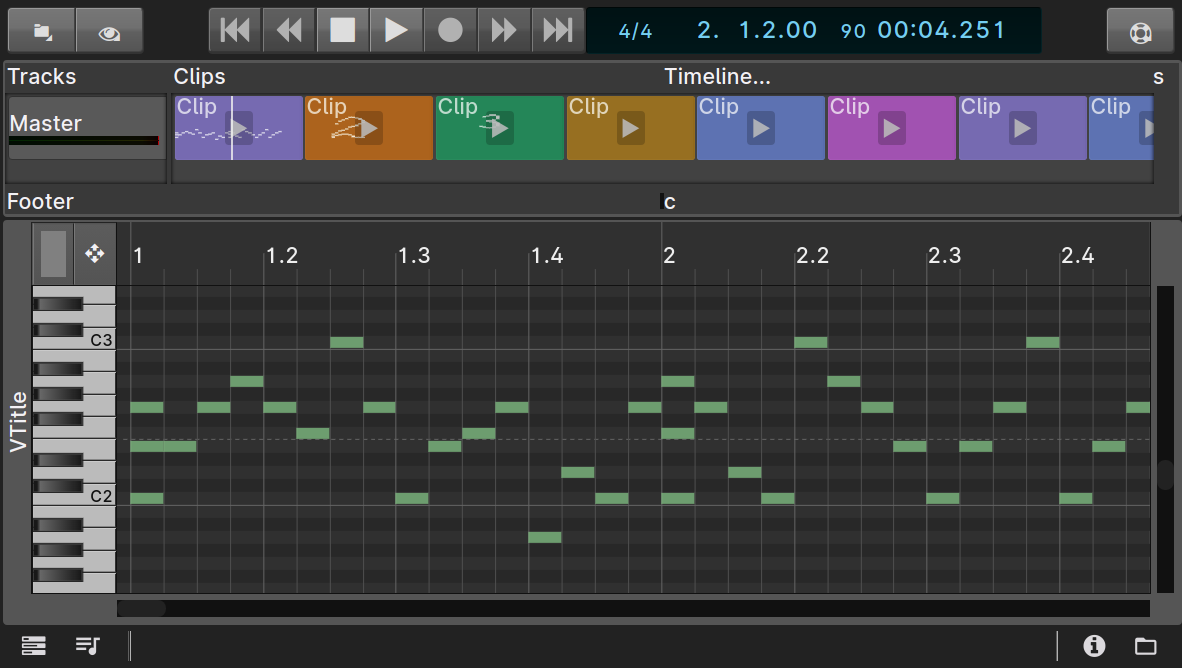 Digital Audio Creation
Welcome to Anklang, a digital audio synthesis application for live creation and composition of music or other audio material. This project presents a revamp of several former audio projects by its two main authors Tim Janik and Stefan Westerfeld. It aims to realize a coherent, solid amalgamation for composition and interactive creation of synthesis music. The source code is released as Free Software, licensed under the MPL-2.0 and runs under Linux.
Documentation and Articles
Anklang provides reference documentation, introductions, further readings and the projects it is based on have been covered at conferences and in a number of articles:
Support
Help around Anklang and contact to the community can be accessed in a variety of ways:
Downloads
Anklang releases are available as source code archives and binary AppImage executables. The source code is licensed MPL-2.0, and the project uses Git for distributed source code development.
Contributing
Contributions are always welcome, graphical artists, musicians, translators, programmers can all help the project, just chat with us or contact us via the issue tracker.
Financial support is also appreciated, ideally through consulting of the developers:
Consulting Tim Janik: https://testbit.eu/timj

The possibility for donations under our jurisdiction is still under investigation.
Development
The Anklang development source code and issue tracker are hosted at Github. The Anklang project is split into two major components, the user interface which is implemented with web technologies, and the synthesis engine which is implemented in C++.
Here is a collection of development related resources:
Linux Audio Plugin Specification: LADSPA

Open standard for Linux based audio plugins: LV2

Simple header to allow VeSTige compilation: aeffectx.h
Updates & History
This is the news section that gives an overview of Anklang releases and related events of significance in the project.
CLAP - CLever Audio Plug-in API
Wedneday 15th June 2022
Last week the CLAP-1.0.0 version got tagged by the CLAP project and LWN ran an article about it.
Today several projects (and a number high profile companies) announced interest in supporting CLAP for their DAW and plugin developments: u-he - CLAP Announcement
Work on supporting CLAP for Anklang also started last weekend. The CLAP API is farily straight forward and Anklang can already find and load the Beta version plugins listed in the announcement.
Related threads on KVR can be found here:
About CLAP - KVR Audio
CLAP 1.0 betas for ACE, Diva, Hive, MFM 2.5 - KVR Audio
Anklang 0.1.0
Tuesday 26nd July 2022
Version 0.1.0 of Anklang has just been released.
With version 0.1.0, Anklang provides a MIDI sequencer, Undo/Redo capabilities for note editing, real-time synthesis, and support for CLAP plugins.
The real-time sound engine is implemented in C++, the UI runs in Electronjs, Firefox or Chrome. Assistance with development, porting or creative efforts is very welcome.
The source code and binary packages are available here:
Anklang 0.0.1-alpha1
Monday 22nd November 2021
A first pre-release of Anklang is available now. This wraps up a good year of development to reshape the code base into something sane, modern and extensible.
This release provides an AppImage and a Debian package. These should run on at least Ubuntu 20.04, which is also the recommended build environment.
As of now, Anklang supports the ALSA MIDI and ALSA PCM drivers, very basic note editing and clip playback, and an interesting BlepSynth implementation by Stefan Westerfeld.
The Anklang UI can be run based on Electron (just start anklang after installation). Or, for the adventurous, the UI can run in the web browser by starting the synthesis engine directly. This requires the installation path, i.e. start it with something similar to: /usr/local/lib/anklang-0-0/lib/AnklangSynthEngine-0.0.1
https://github.com/tim-janik/anklang/releases/tag/v0.0.1-alpha1
First Anklang Website
Thursday 17th November 2021
The Anklang website, home of the Anklang project, is now live. While the Github README.md page makes it easy to give a static overview of the installation and source code development, the website can cover everything related to the project beyond the technicalities.